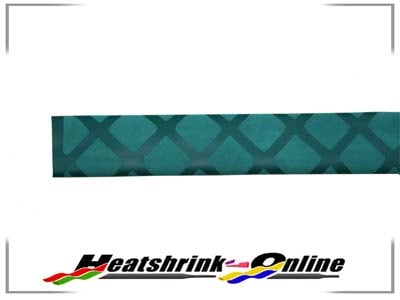 30mm Green Non Slip Textured Heatshrink x 1m
30mm Green Non Slip Textured Heatshrink x 1m
Special textured non-slip heat shrink tubing.
Flexible, single thin wall, low shrinkage temperature.
Typical Features & Applications
Manufactured from a specially formulated polymer which has undergone a surface treatment that provides a non-slip textured finish. Ideal for use as grips on sports equipment including racquets and fishing rods, health equipment, tools, machinery handles, hand rails, etc etc.
It provides a durable decorative diamond surface finish with increased friction and anti-slip, skid proof properties
Technical Data
Full recovery temperature: +105°C
Shrinkage ratio: 2:1
Tensile strength: 10.4 Mpa
RoHS: Compliant
Operating temperature: -55°C to +105°C
Minimum shrinkage temperature: +70°C
Internal

Diameter mm

Shrunk

Internal Diameter mm

Shrunk

Wall Thickness

Length
20mm
11mm
0.90mm
1m
25mm
14.5mm
1.0mm
1m
30mm
17.5mm
1.2mm
1m
40mm
23mm
1.2mm
1m
50mm
28mm
1.25mm
1m