Postage & Delivery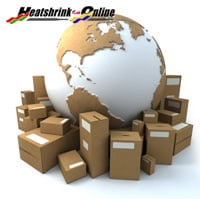 Heatshrink-Online Delivery Information

.
All shipping charges are charged out by weight, each item has a weight value along side it, to calculate your shipping charges just add the total weights of every item and compare them to your country to find your total shipping charges, note that total shipping will also be automatically be calculated at the checkout.


Delivery within the UK
is
normally received within 2-3 working days of placing your order, you can check the progress of your order at any time by emailing us here
, European & Worldwide deliveries please allow 7-10 days.
FREE DELIVERY ON ALL ORDERS OVER £100 UK ONLY
UK ONLY SHIPPING CHARGES
| | | |
| --- | --- | --- |
| | Weight | Price |
| 1 | Up to 100Grm | £1.45 |
| 2 | Up to 750Grm | £3.95 |
| 3 | Up to 1000Grm | £4.29 |
| 4 | Up to 1250Grm | £4.75 |
| 5 | Up to 1500Grm | £5.79 |
| 6 | Over 1500Grms | £6.70 |
| | | |
| | | |
| | | |
| | | |
EUROPE ONLY SHIPPING CHARGES
REST OF THE WORLD SHIPPING CHARGES
| | | |
| --- | --- | --- |
| | Weight | Price |
| 1 | Up to 100Grm | £3.39 |
| 2 | Up to 150Grm | £3.86 |
| 3 | Up to 200Grm | £4.42 |
| 4 | Up to 250Grm | £4.98 |
| 5 | Up to 300Grm | £5.54 |
| 6 | Up to 400Grm | £6.76 |
| 7 | Up to 500Grm | £9.97 |
| 8 | Up to 750Grm | £15.42 |
| 9 | Up to 1000Grm | £19.08 |
| 10 | Up to 2000Grm | £31.28 |