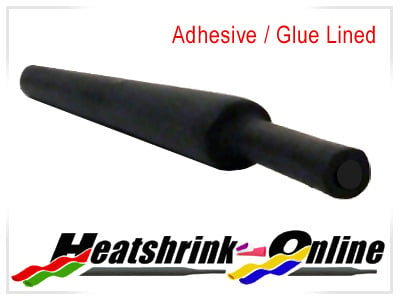 3:1 Black Glue Lined Heat Shrink 19mm Diameter
19mm Diameter x 1m Black Glue Lined Heat Shrink 3:1
DESCRIPTION


19mm
diameter black adhesive/glue lined heatshrink.
3:1 shrink ratio.
Shrinks down to 6.33mm diameter.
Supplied in 1 metre lengths.
Purchase more than 1 length and it will be supplied in one continuous length.

Shrinking temperature +90°C.
A semi flexible heatshrink tubing with a meltable adhesive inner lining which melts and flows to seal and encapsulate components within.
It is designed to provide a moisture proof sealing for a wide range of uses.
Resistant to oils, fuels and moisture.
Conforms to UL requirements.
Size quote is the internal diameter before shrinking.
Weight per 1m length: 101grms
INSIDE DIAMETER

WALL THICKNESS

Expanded

as

supplied

(min)

Recovered

after

heating

(max)

Total Wall

recovered

after heating

(nom)

Meltable Wall

recovered

after heating

(nom)

3mm

1mm

1mm

0.5mm

6mm

2mm

1mm

0.5mm

9mm

3mm

1.4mm

0.6mm

12mm

4mm

1.75mm

0.7mm

19mm

6mm

2.25mm

0.8mm

24mm

8mm

2.5mm

1mm

40mm

13mm

2.5mm

1mm