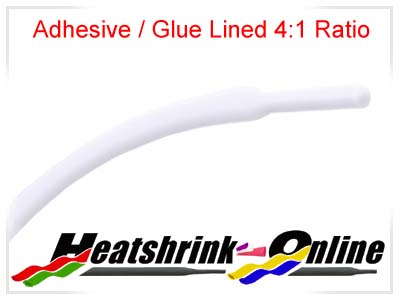 52mm Diameter Clear 4:1 Glue Lined Heat Shrink
52mm Diameter Clear 4:1 Glue Lined Heat Shrink
52mm diameter clear adhesive/glue lined heatshrink.
4:1 shrink ratio.
Shrinks down to 13mm diameter.
Supplied in 1 metre lengths.

Shrinking temperature +100°C.
A semi flexible polyolefin heatshrink tubing with a meltable adhesive inner lining which melts and flows to seal and encapsulate components within.
It is designed to provide a moisture proof sealing for a wide range of uses.
Resistant to oils, fuels and moisture.
Conforms to UL requirements.
Operating Temperature: -55°C - 125°C
Size quote is the internal diameter before shrinking.
Weight per 1m length: 181grms
| | | |
| --- | --- | --- |
| Expanded | Recovered | |
| Internal Diameter | Internal Diameter | Wall Thickness Overall |
| 4mm | 1mm | 1mm |
| 8mm | 2mm | 1.2mm |
| 12mm | 3mm | 1.4mm |
| 16mm | 4mm | 1.7mm |
| 24mm | 6mm | 2.1mm |
| 32mm | 8mm | 2.4mm |
| 52mm | 13mm | 2.4mm |